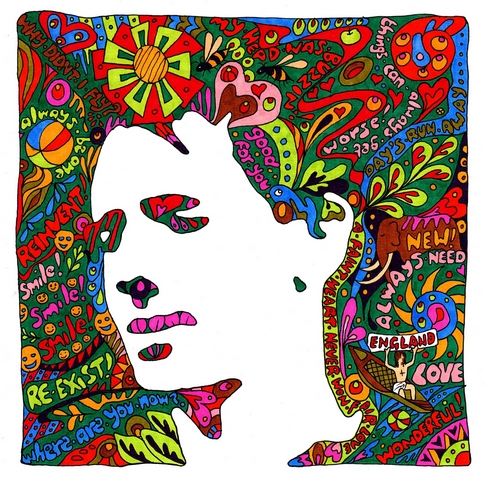 Den's fifth release, "A Headful of Fancies", released 25th April 2015, takes its name from the opening line of the opening track, "Don't Fail Me Now, My Heart", a singalong favourite from live performances. This song and a few others are recorded as acoustic songs, reflecting Den's solo performances. Others have been recorded with a full band, although these songs also work stripped down acoustically.
"All these songs have been created to be played live, and although I could have recorded them how I play them live, sometimes you can appeal to a wider audience with a band sound. Plus, the audience is a crucial part of what makes a live performance special, but such a visual and emotional connection is likely to be lost on someone half-listening to the radio driving to work. A band is a good way to try and replace some of that lost atmosphere."
Den has also included instrumentals for the first time on an album, "Dance of the Hobgoblins" and "Penultimate Orders". Another first is that Den plays all the instruments on the album, which
"added to the pressure in the studio but was also a lot of fun, and very satisfying."
It was recorded at Calder Recordings, and Frances Miller again provides the artwork.


Den's third solo album, "Be Where You Are", contains 12 original songs which Den has written specifically for his recent, i.e. acoustic, live performances.
"I love doing my songs in a band setting, but for various reasons, it's just not within the scope of where I am in my life right now to perform that live. People would listen to the CDs, and it would be very different to what they'd heard live. So these new songs all work for a solo performer. They invite audience participation and they tend to be more humourous too. The focus is on the words and the delivery of them, rather than burying all this in layers of orchestration and harmonies, much as I enjoy doing that."
And, indeed, the temptation to sing a 6 part harmony section was too great on some songs.
It was the second album to be recorded at Calder Recordings, and Frances Miller again provides the artwork.
"Her artwork is one of the main reasons to buy the CD. She puts as much into it as I do the music.
It's like a few bonus tracks on the album!"


Den's second solo album, "Still A Beautiful World" was released August 2007, and contains 10 original songs which stick to Den's songwriting philosophy of strong melody plus intelligent lyrics. As well as the title track, which made the finals of the 2009 Raise Your Banners Political Songwriting Competition, standout tracks include "Can't Help But Miss The Sun", "Lost", and "One False Move". The only cover version, "Down By The Riverside", is a 9-part harmony a capella version of the traditional "Study War No More".
It was recorded at Calder Recordings in Mytholmroyd, West Yorkshire, surrounded by beautiful scenery, with Steve Fenton an excellent engineer. The album artwork is a collaboration between Frances Miller and Snubs
Still A Beautiful World (the album) reviewed in Tykes News Magazine ... [read more]
Still A Beautiful World (the song) featured on Yorkshire Music Collective ... [read more]


With her bold colours and sketchy style which paints a scene straight from "Tired Of Starting Again", Frances Miller beautifully introduces the first Den Miller recording in 10 years. The long awaited sequel to "Ta Verry Much" was recorded at the excellent Sponge Studio in Leeds under the expert guidance of Jim Dobson. The album is mostly new songs, with a couple of old Spooks favourites thrown in, one of which, "Eat Away The Rainbow" is actually played by The Spooks themselves.
The album is, in the main, a lot mellower than the heady folk indie rock of The Spooks' Ta Verry Much. This can partly be explained by the Songwriting Weekend Den went on 6 months before recording. It was in the middle of nowhere (apologies to residents of Penrith in Cumbria) and run by singer/songwriting duo Cathryn Craig and Brian Willoughby. Apart from the peace and quiet and encouragement which enabled Den to write "Ticket Home" and "Send In The Love", Cathryn and Brian's powerfully moving yet so simple guitar and vocal arrangements encouraged Den to strip the noisy Spooks version of "Why Is Love So Hard?" down to 2 guitars and simple keyboards. The now simple arrangements of the previously boppy "There's Always A Boat Going Nowhere" and the anthemic "All Is Never Done" make these two of the more emotional and haunting songs on the album.
"Wasting My Time", "Count Them All" and "I Wasn't Late For You" (somewhat ironically finished frantically in the studio while Joe and Jim were setting up the drumkit) complete the album.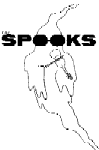 The Spooks were an indie folk-rock band based in Salford and Leeds and consisted of Richard Blachford on violin, Joe Miller on drums, Tony Webster on lead and bass keyboards, Tim Davis on lead guitar and vocals, and Den Miller on rhythm guitar and vocals.

The trademark Ghostie logo of The Spooks was created by Frances Miller, and formed a 12ft high backdrop to the live shows, as well as introducing the Ta Verry Much album. The first track on each side (the catchy "Dominate The World" and the more reflective "Somebody Nobody") were penned by Kevin Miller and sung by Tim, whose Knopleresque guitar solos were very much a feature of the music. Indeed Dire Strait's "Sultans Of Swing" was a favourite live number, and it surprised quite a few in the audience as Tim can actually play the solo note for note.
The rest of the album was written by Den, covering such subjects as boring jobs (the chicken-dance-inspiring "White Collar Working Man"), busking in Manchester ("Look On"), an accident with the fabric of space-time ("Dirky And The Cavemen"), the first Gulf War ("Got To Be A Rebel") and struggling against overwhelming bad luck ("Not Giving Up"). Oh yes, and unrequited love ("Mayday"), sigh, well everyone has at least one of 'em.
Unfortunately, as far as record companies went, it "wasn't what they were looking for." Never mind, they found East 17, 2 Unlimited and Rednex instead. Faced with such talent The Spooks never stood a chance.